In a world brimming with distractions and challenges, it's all too easy to forget the simple yet profound act of gratitude. The Psalms, a collection of ancient songs and poems, offer a timeless guide to cultivating gratitude in our lives. These verses, often written as expressions of praise and thanksgiving, can serve as a roadmap for embracing gratitude in our modern journey. Join us as we delve into the Psalms and uncover the transformative power of gratitude.
1. Psalms: Seeds of Gratitude
The journey of gratitude begins with planting seeds in the soil of our hearts. The Psalms, like seeds, hold the potential to grow a garden of thankfulness within us. Psalm 92:1-2 says, "It is good to give thanks to the Lord, to sing praises to your name, O Most High; to declare your steadfast love in the morning, and your faithfulness by night." Here, the psalmist emphasizes the rhythm of gratitude, from morning to night. Just as a well-tended garden requires consistent care, nurturing gratitude throughout our day can lead to a more fulfilled life.
2. The Psalms of Reflection: Finding Gratitude in Stillness
In the hustle and bustle of life, finding moments of stillness is essential. The Psalms offer a refuge for reflection, allowing us to ponder our blessings and offer thanks. Psalm 46:10 encourages us to, "Be still, and know that I am God." In the silence, we can recognize the countless gifts surrounding us and develop a deeper awareness of the beauty in our lives.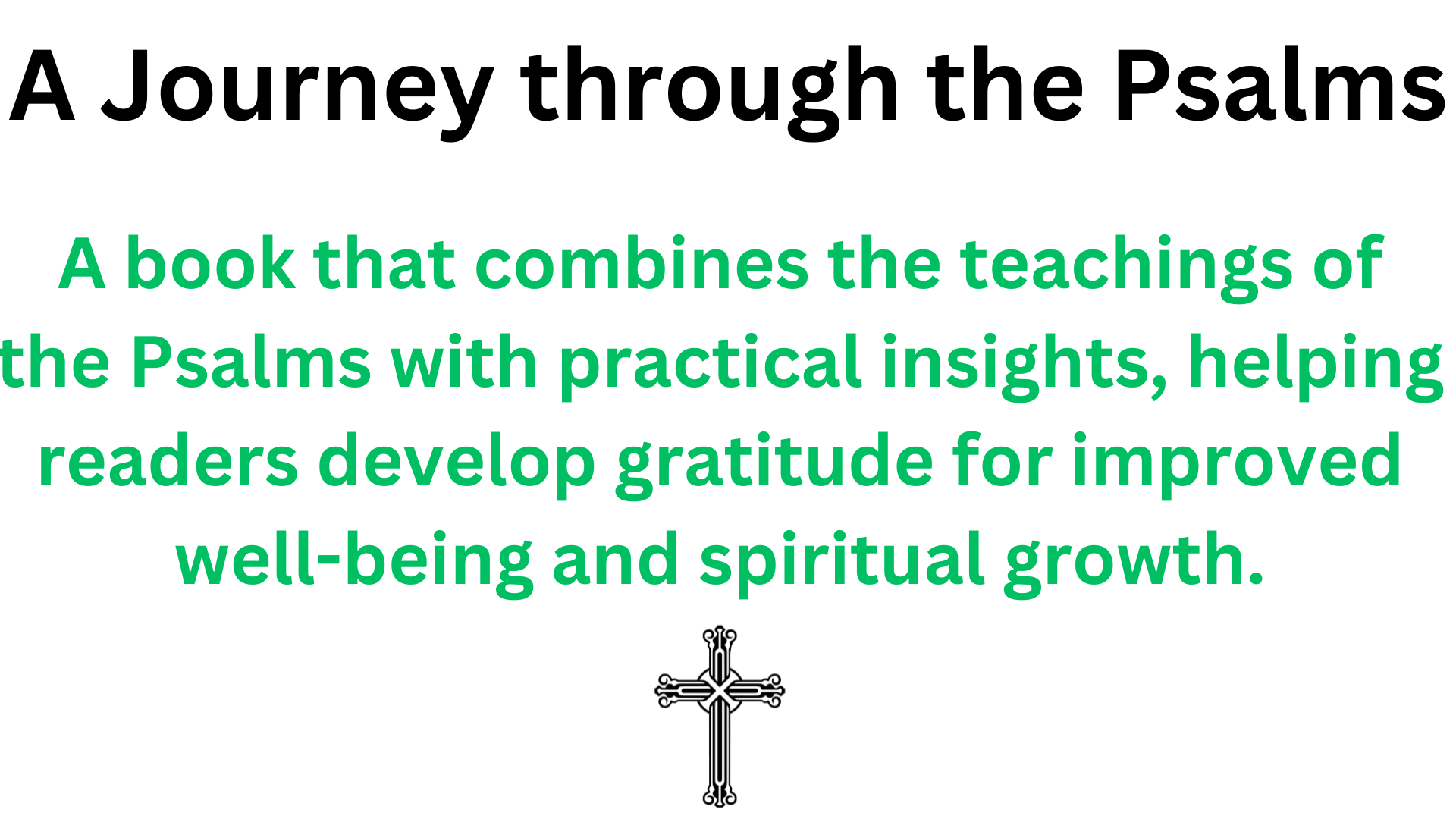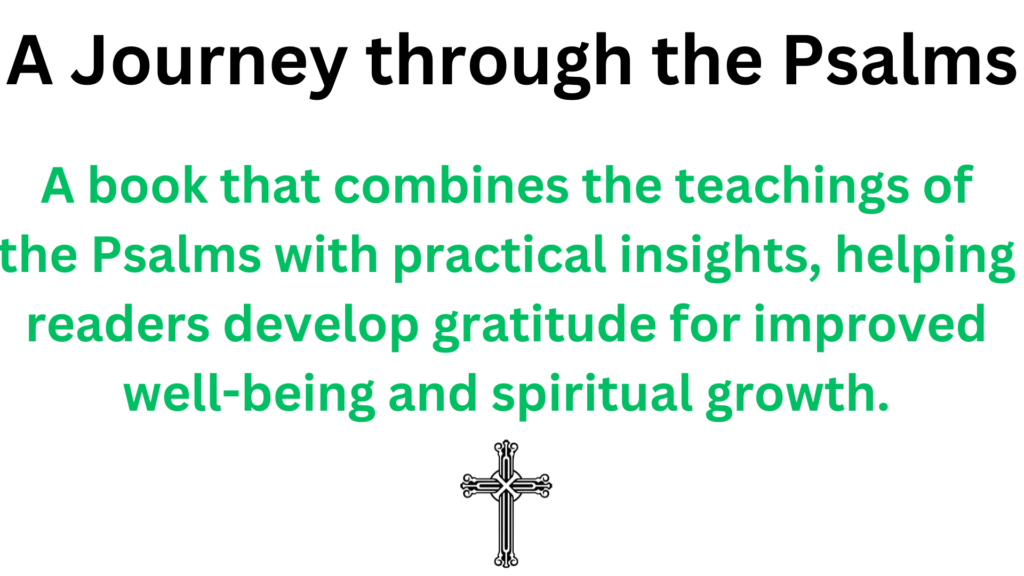 3. Turning Challenges into Gratitude: Learning from the Psalms
Life's journey is not without its challenges. The Psalms, however, teach us to find gratitude even in the midst of adversity. Psalm 23, perhaps one of the most well-known, declares, "Even though I walk through the valley of the shadow of death, I will fear no evil, for you are with me." This verse reminds us that gratitude can be a guiding light, leading us through the darkest of times.
4. Gratitude in Community: The Psalms of Togetherness
The Psalms were often sung and recited in communal settings, fostering a sense of unity among people. Psalm 133:1 celebrates this bond: "Behold, how good and pleasant it is when brothers dwell in unity!" Just as the Psalms were shared among ancient communities, embracing gratitude in our own circles can create a supportive network that uplifts and inspires.
5. Nature's Song of Gratitude: The Psalms of Creation
The natural world has a way of reminding us of life's wonders and instilling a sense of gratitude. The Psalms capture this beautifully in verses like Psalm 104:24-25, "O Lord, how manifold are your works! In wisdom have you made them all; the earth is full of your creatures." By immersing ourselves in the Psalms of creation, we can align our hearts with the rhythm of the natural world and find gratitude in its magnificence.
6. Gratitude in Abundance and Want: Lessons from the Psalms
Whether in times of abundance or want, the Psalms teach us to be grateful. Psalm 65:11 proclaims, "You crown the year with your bounty; your wagon tracks overflow with abundance." Conversely, Psalm 73:26 acknowledges, "My flesh and my heart may fail, but God is the strength of my heart and my portion forever." These verses remind us that gratitude transcends circumstances, allowing us to find contentment regardless of our situation.
7. A Heart of Thankfulness: Transformative Power of the Psalms
Ultimately, the Psalms guide us toward cultivating a heart of thankfulness. They invite us to embrace gratitude as a way of life, shaping our perspective and influencing our actions. Psalm 100:4-5 encapsulates this sentiment: "Enter his gates with thanksgiving, and his courts with praise! Give thanks to him; bless his name! For the Lord is good; his steadfast love endures forever." By internalizing the wisdom of the Psalms, we can experience a profound transformation that leads to a more joyful and fulfilling existence.
8. The Psalms of Forgiveness: A Path to Gratitude
Forgiveness is a cornerstone of gratitude, allowing us to release negativity and make room for thankfulness. The Psalms acknowledge this in Psalm 32:1-2, "Blessed is the one whose transgression is forgiven, whose sin is covered. Blessed is the man against whom the Lord counts no iniquity." Gratitude flourishes when we recognize the gift of forgiveness, both from the divine and from those around us.
9. Gratitude in Worship: The Psalms of Adoration
Worship and gratitude are intertwined in the Psalms, with verses dedicated to adoring the divine. Psalm 95:1-2 invites us to, "Come, let us sing for joy to the Lord; let us shout aloud to the Rock of our salvation. Let us come before him with thanksgiving and extol him with music and song." When we engage in worshipful acts of gratitude, we create a space to connect with something greater than ourselves.
10. The Journey of Gratitude: Applying the Psalms to Daily Life
The Psalms offer more than poetic verses; they provide practical guidance for integrating gratitude into our daily lives. Psalm 37:3-4 advises, "Trust in the Lord and do good; dwell in the land and enjoy safe pasture. Take delight in the Lord, and he will give you the desires of your heart." Here, we're reminded that gratitude is intertwined with trust and action, fostering a harmonious life journey.
11. The Psalms of Hope: Nurturing Gratitude in Difficult Times
Hope and gratitude often go hand in hand, helping us navigate challenging circumstances. The Psalms echo this sentiment in Psalm 42:11, "Why, my soul, are you downcast? Why so disturbed within me? Put your hope in God, for I will yet praise him, my Savior and my God." By nurturing hope, we create a fertile ground for gratitude to thrive, even amidst trials.
12. Gratitude's Ripple Effect: Sharing the Psalms with Others
Just as the Psalms were shared in ancient times, we can pass on the spirit of gratitude to those around us. Psalm 107:1 encourages us, "Give thanks to the Lord, for he is good; his love endures forever." When we share our gratitude, we inspire a ripple effect that touches lives and spreads positivity, creating a cycle of thankfulness.
13. The Psalms of Reflection: A Source of Wisdom
The Psalms serve as a wellspring of wisdom, offering insights into the human experience. Psalm 39:4-5 contemplates, "Show me, Lord, my life's end and the number of my days; let me know how fleeting my life is. You have made my days a mere handbreadth." Reflecting on the brevity of life can intensify our gratitude for every moment, encouraging us to savor each experience.
14. Gratitude in Diversity: The Psalms of Inclusion
The Psalms embrace diversity, reminding us that gratitude transcends boundaries. Psalm 117:1-2 declares, "Praise the Lord, all you nations; extol him, all you peoples. For great is his love toward us, and the faithfulness of the Lord endures forever." In a world with varying cultures and backgrounds, practicing gratitude unites us in our shared humanity.
15. The Psalms of Celebration: Joyful Gratitude
Celebration is a form of gratitude that exudes joy and positivity. The Psalms teach us to celebrate life's victories, both big and small. Psalm 118:24 invites us to rejoice, "This is the day that the Lord has made; let us rejoice and be glad in it." By celebrating with a heart full of gratitude, we infuse our lives with boundless energy and enthusiasm.
16. Embracing Gratitude: A Lifelong Pilgrimage
The exploration of these timeless verses is an ongoing journey, not a fixed destination. These ageless insights continue to be meaningful, directing us towards a life imbued with gratitude. As conveyed in Psalm 16:11, "You reveal the way of life to me; in your presence is fullness of joy," these verses illuminate a path to a joyous life through gratitude.
17. Legacy of Gratitude: Passing Down the Psalms
The Psalms have stood the test of time, and their legacy continues as a gift to future generations. Just as we have found solace and wisdom in these verses, we can share this legacy of gratitude with our children and those who come after us. Psalm 78:4 urges us, "We will tell the next generation the praiseworthy deeds of the Lord, his power, and the wonders he has done." Passing down the Psalms and the practice of gratitude is a precious inheritance that can shape lives for generations to come.
18. The Psalms of Surrender: Letting Go and Gratitude
Surrender is a powerful act that leads to gratitude. The Psalms guide us toward surrendering our worries and fears, allowing space for gratitude to flourish. Psalm 37:7 advises, "Be still before the Lord and wait patiently for him; do not fret when people succeed in their ways when they carry out their wicked schemes." In surrender, we release the burdens that hold us back and open ourselves to the gifts of gratitude.
19. Gratitude in Times of Abundance: Avoiding Complacency
In times of plenty, complacency can set in, making it easy to take blessings for granted. The Psalms remind us to remain grateful even when our cups overflow. Psalm 65:11 proclaims, "You crown the year with your bounty; your wagon tracks overflow with abundance." Gratitude keeps us grounded, ensuring that abundance doesn't dull our awareness of life's wonders.
20. The Psalms of Humility: A Foundation for Gratitude
Humility is a cornerstone of gratitude, as it opens our hearts to receive blessings with a sense of wonder. The Psalms echo this sentiment in Psalm 131:1-2, "My heart is not proud, Lord, my eyes are not haughty; I do not concern myself with great matters or things too wonderful for me. But I have calmed and quieted myself, I am like a weaned child with its mother; like a weaned child I am content." Through humility, we create space for gratitude to flourish.
21. A Grateful Perspective: The Psalms of Renewal
The Psalms guide us in shifting our perspective to find gratitude in all situations. Psalm 103:2-5 encourages us, "Praise the Lord, my soul, and forget not all his benefits—who forgives all your sins and heals all your diseases, who redeems your life from the pit and crowns you with love and compassion." This shift in focus, from challenges to blessings, allows us to view life through a lens of gratitude.
22. The Psalms of Lament: Finding Gratitude in Grief
Grief and gratitude may seem at odds, yet the Psalms teach us to find both in times of sorrow. The psalmist's journey through lament often leads to a place of gratitude. Psalm 30:11-12 reflects this transition: "You turned my wailing into dancing; you removed my sackcloth and clothed me with joy, that my heart may sing your praises and not be silent. Lord my God, I will praise you forever." Through the Psalms of lament, we learn that even in the midst of pain, gratitude can emerge as a source of healing.
23. The Psalms of Trust: Building a Foundation of Gratitude
Trust is the bedrock upon which gratitude flourishes. The Psalms guide us in cultivating unwavering trust in the divine, allowing gratitude to become a natural response to life's twists and turns. Psalm 56:3-4 reaffirms this trust, "When I am afraid, I put my trust in you. In God, whose word I praise—in God, I trust and am not afraid." Trusting the journey enables us to find gratitude in every step, no matter the circumstances.
24. Gratitude's Journey Continues: Our Personal Psalms
Drawing inspiration from personal experiences, we can create our own heartfelt expressions of gratitude. These don't require formal structure, but can be genuine and sincere. Just as the sentiment in Psalm 138:1-2 speaks of praising with all one's heart and recognizing unfailing love and faithfulness, our own expressions can become a private dialogue of thankfulness.
Conclusion: A Lifelong Practice of Embracing Gratitude
The journey through life's teachings has illuminated the path to embracing gratitude in every facet of our lives. From reflection to celebration, from challenges to surrender, these timeless insights offer guidance that resonates across generations. As we continue walking this path, let us echo the enduring sentiment, "Give thanks to the source of our being. Gratitude remains our constant companion, enriching our lives and connecting us to each other. Through these ever-relevant lessons, we discover that the journey of embracing gratitude is not a destination but a lifelong practice that transforms our hearts and souls.