Aging is a natural and inevitable part of life, a journey that we all embark upon. As Christians, we are called to view every season of life through the lens of faith and find God's purpose and beauty in each moment. In this blog post, we will delve into the concept of finding beauty in the aging process, exploring the depth of wisdom and character that come with the passing years. Let's journey together to discover how a biblical perspective can transform the way we see aging and help us embrace the beauty that unfolds with grace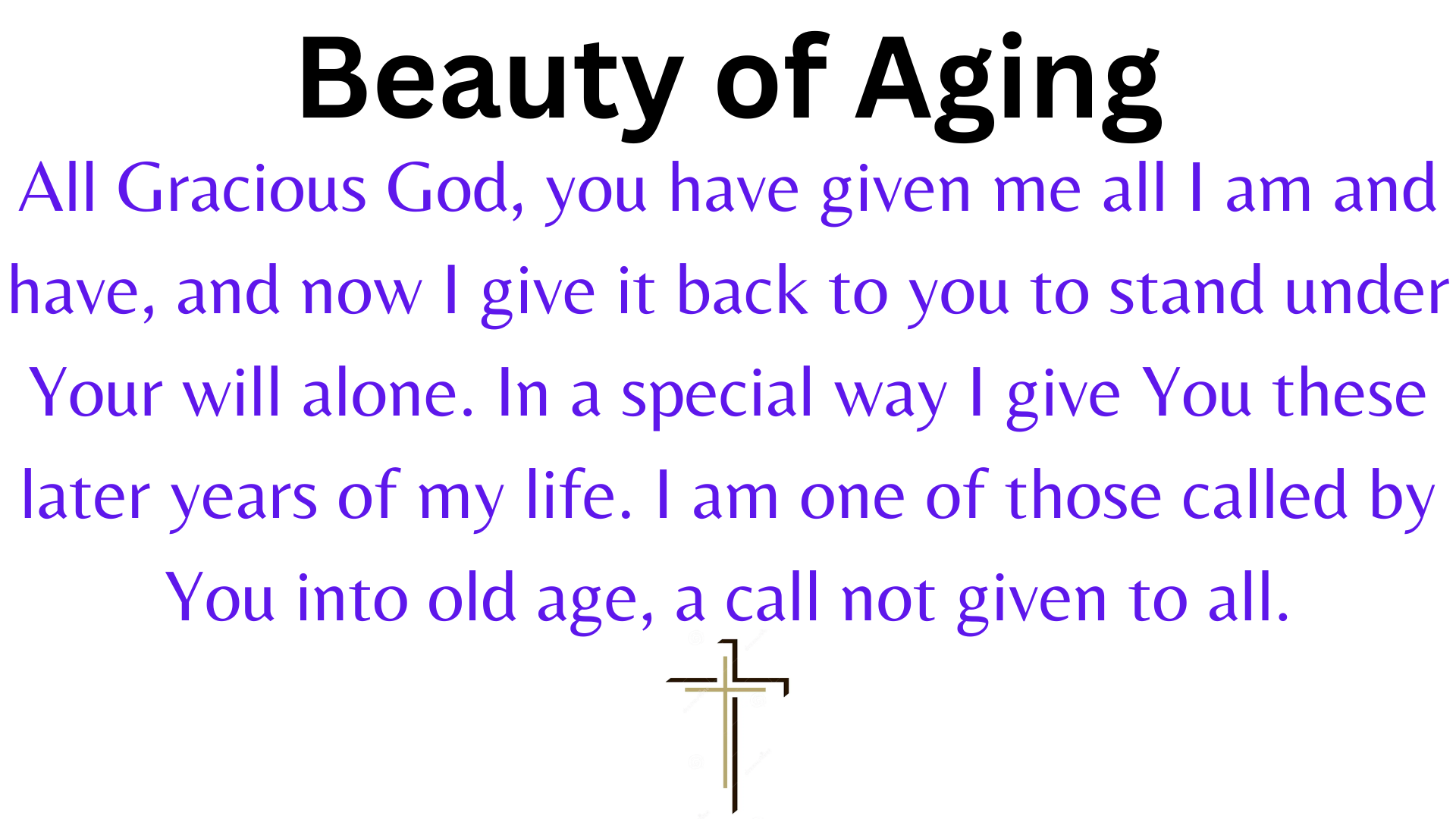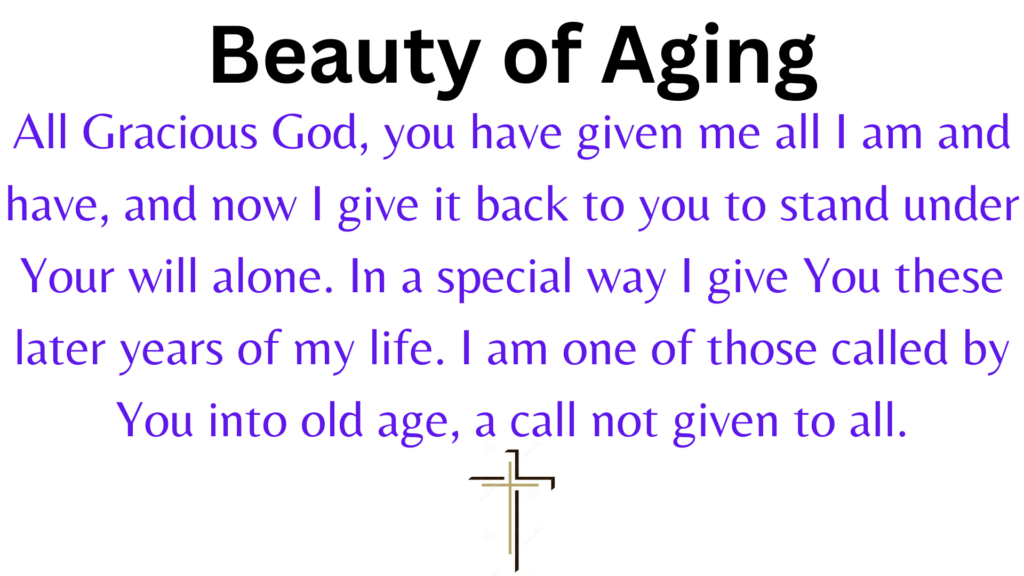 The Wisdom of Years:
In a world that often glorifies youth and vitality, the Bible presents a contrasting view of the value of aging.
Proverbs 16:31 tells us, "Gray hair is a crown of splendor; it is attained in the way of righteousness."
This verse highlights the idea that aging is not a sign of decline but rather a mark of honor earned through a life lived in alignment with God's ways. As we age, we accumulate experiences, learn from our mistakes, and grow in wisdom. Our gray hairs become a testament to the journey we've taken with God, and they add depth and character to our appearance.
Inner Beauty and Character:
While society often places a strong emphasis on outward appearance, the Bible directs our focus towards the inner qualities that truly define beauty. 1 Peter 3:3-4 reminds us, "Your beauty should not come from outward adornment, such as elaborate hairstyles and the wearing of gold jewelry or fine clothes. Rather, it should be that of your inner self, the unfading beauty of a gentle and quiet spirit, which is of great worth in God's sight." The aging process provides an opportunity for our inner beauty and character to shine even brighter. As our physical bodies change, we can cultivate a gentle and quiet spirit that radiates the love and grace of Christ.
God's Design for Aging Gracefully:
Aging gracefully isn't about defying the passage of time, but rather embracing it with faith and contentment. The Bible assures us that God's plan for our lives continues to unfold, regardless of our age. Isaiah 46:4 declares, "Even to your old age and gray hairs I am he, I am he who will sustain you. I have made you and I will carry you; I will sustain you and I will rescue you." This promise reminds us that God's presence remains constant as we age, and He sustains us through every season. Aging gracefully means trusting in God's plan and relying on His strength.
Cultivating Gratitude and Contentment:
In a culture that often promotes the pursuit of eternal youth, finding contentment in the aging process can be a challenge. However, the apostle Paul provides a profound perspective in Philippians 4:11-12, "I have learned to be content whatever the circumstances. I know what it is to be in need, and I know what it is to have plenty. I have learned the secret of being content in any and every situation, whether well fed or hungry, whether living in plenty or in want." Applying Paul's wisdom, we can learn to be content in the changing seasons of aging, finding gratitude for the experiences and opportunities that each stage brings.
Legacy of Faith:
As we age, we have the privilege of leaving behind a legacy of faith for future generations. Psalm 71:18 exclaims, "Even when I am old and gray, do not forsake me, my God, till I declare your power to the next generation, your mighty acts to all who are to come." Our lives become a testimony to God's faithfulness, and the stories we share inspire others to continue their journey of faith. The beauty of our aging process is magnified as we impact the lives of those who follow in our footsteps.
Aging Gracefully with Hope:
As we continue to explore the theme of aging, it's essential to recognize that aging isn't a journey we undertake alone. Our faith provides us with the foundation to approach the aging process with hope and assurance. Psalm 92:14-15 beautifully captures this sentiment: "They will still bear fruit in old age, they will stay fresh and green, proclaiming, 'The Lord is upright; he is my Rock, and there is no wickedness in him.'" These verses remind us that even as we age, we are capable of bearing fruit, of contributing positively to the world around us. Our faith in God's unwavering love and guidance empowers us to remain "fresh and green" in our outlook, continuing to proclaim His goodness.
Aging with Dignity:
In a culture that often prizes external appearances, the concept of aging with dignity might be overlooked. However, the Bible teaches us that every individual is created in the image of God and is deserving of respect and honor, regardless of age. Leviticus 19:32 implores, "Stand up in the presence of the aged, show respect for the elderly and revere your God. I am the Lord." This command speaks to the importance of treating the elderly with honor and reverence. As we age, we can embrace this dignity and remind ourselves that our worth comes from our identity as beloved children of God.
The Eternal Perspective:
Amidst the challenges and changes that come with aging, it's crucial to maintain an eternal perspective. The apostle Paul encourages us in 2 Corinthians 4:16-18: "Therefore we do not lose heart. Though outwardly we are wasting away, yet inwardly we are being renewed day by day. For our light and momentary troubles are achieving for us an eternal glory that far outweighs them all. So we fix our eyes not on what is seen, but on what is unseen, since what is seen is temporary, but what is unseen is eternal." This passage reminds us that while our physical bodies may age and weaken, our spirits can be renewed daily through our relationship with God. Our present struggles are a pathway to eternal glory, and this eternal perspective gives us hope and strength to face each day with grace.
Aging and Community:
In the journey of aging, community becomes an essential aspect of our lives. Ecclesiastes 4:9-10 emphasizes the value of companionship: "Two are better than one, because they have a good return for their labor: If either of them falls down, one can help the other up. But pity anyone who falls and has no one to help them up." As we age, it's important to cultivate relationships that offer support, encouragement, and companionship. Whether through church groups, social circles, or intergenerational connections, these relationships enrich our lives and remind us that we're never alone on this journey.
Aging as a Gift:
The notion of aging as a gift might seem counterintuitive to prevailing cultural attitudes, but the Bible teaches us to view each day, each year, as a precious gift from God. Psalm 90:12 urges, "Teach us to number our days, that we may gain a heart of wisdom." Embracing aging as a gift involves recognizing the privilege of experiencing new seasons, learning from past experiences, and growing in wisdom. Instead of focusing solely on what we may perceive as limitations, we can appreciate the unique opportunities that each age brings.
Aging with Abundant Grace:
The concept of aging isn't limited to the physical changes we experience; it encompasses a spiritual transformation as well. As Christians, we are called to grow in our relationship with God throughout our lives, and aging provides a unique canvas for this growth. Psalm 71:17-18 beautifully captures this sentiment: "Since my youth, God, you have taught me, and to this day I declare your marvelous deeds. Even when I am old and gray, do not forsake me, my God, till I declare your power to the next generation, your mighty acts to all who are to come." In the process of aging, we have the privilege of declaring God's power and faithfulness to those who come after us, leaving a legacy of wisdom and faith.
Aging and Spiritual Maturity:
The journey of aging is intricately linked to the development of spiritual maturity. The apostle Paul, in his letter to the Ephesians, prays for believers' spiritual growth, stating, "I pray that out of his glorious riches he may strengthen you with power through his Spirit in your inner being" (Ephesians 3:16). As we age, we're granted the opportunity to deepen our spiritual roots and grow in our understanding of God's Word. Our experiences, both joyful and challenging, refine our faith and lead us to a more profound intimacy with our Creator.
Aging: A Testament to God's Faithfulness:
Each wrinkle, each gray hair, bears witness to a life lived, a journey undertaken, and a story of God's faithfulness. Throughout the Bible, we encounter stories of individuals who experienced God's unwavering presence in their old age. Abraham and Sarah's story, for example, demonstrates how God's promises transcend the limitations of time. Hebrews 11:11-12 reminds us, "And by faith even Sarah, who was past childbearing age, was enabled to bear children because she considered him faithful who had made the promise." Just as God fulfilled His promises to the elderly in biblical times, He continues to guide us with the same faithfulness today.
Aging and the Eternal Kingdom:
In the grand tapestry of God's creation, the concept of aging is a reminder that we are but temporary residents in this world. Our ultimate citizenship lies in the eternal kingdom of God. Paul writes in 2 Corinthians 5:1, "For we know that if the earthly tent we live in is destroyed, we have a building from God, an eternal house in heaven, not built by human hands." The aging process serves as a tangible reminder that our bodies are temporary vessels, and our true home awaits us in the presence of God. As we age, we can shift our focus from the fleeting nature of this world to the eternal promises that await us.
Aging and Unwavering Hope:
The journey of aging can be met with uncertainty and even fear, but as Christians, we possess a hope that transcends these feelings. Romans 5:3-4 declares, "Not only so, but we also glory in our sufferings, because we know that suffering produces perseverance; perseverance, character; and character, hope." Our faith teaches us that every season, including aging, contributes to our growth and development. Through the challenges and changes, we can lean on God's promises and find hope in the knowledge that our future is secure in His hands.
Aging: A Tapestry of Grace and Purpose:
In the intricate tapestry of life, aging is a thread woven with grace and purpose. Just as every thread contributes to the beauty of the whole, so does each passing year add depth and richness to the story of our lives. Ecclesiastes 3:1 reminds us, "There is a time for everything, and a season for every activity under the heavens." Aging is one such season—a season of reflection, growth, and renewed purpose.
Aging and God's Redemptive Work:
Aging is a canvas on which God's redemptive work is showcased. Just as nature undergoes cycles of change, our lives too are marked by seasons of growth, transformation, and renewal. Isaiah 40:31 declares, "But those who hope in the Lord will renew their strength. They will soar on wings like eagles; they will run and not grow weary, they will walk and not be faint." As we age, we experience God's renewing strength, enabling us to soar above life's challenges and walk confidently in His purpose.
Aging with Compassion:
Aging also bestows upon us a deeper well of compassion and empathy. Our own experiences of challenges and vulnerabilities allow us to connect with others who are navigating similar paths. 2 Corinthians 1:3-4 reminds us, "Praise be to the God and Father of our Lord Jesus Christ, the Father of compassion and the God of all comfort, who comforts us in all our troubles, so that we can comfort those in any trouble with the comfort we ourselves receive from God." Through our own aging journey, we become vessels of God's comfort and compassion to others.
Aging as a Legacy of Faith:
As the chapters of our lives accumulate, they form a legacy—a testament to our faith and a narrative that speaks to God's faithfulness. Proverbs 17:6 beautifully captures this truth: "Children's children are a crown to the aged, and parents are the pride of their children." Our legacy extends beyond our years, impacting generations to come. Aging presents us with the opportunity to leave behind a legacy of faith, love, and devotion to God—a legacy that shines brightly, pointing others toward the source of our hope.
Aging: An Invitation to Intimacy with God:
In the rhythm of aging, we are invited into a deeper intimacy with our Creator. As the world around us changes, God remains constant. Hebrews 13:8 assures us, "Jesus Christ is the same yesterday and today and forever." Our aging bodies remind us that we are on a journey towards our eternal home, where we will experience the fullness of God's presence. Aging invites us to draw closer to Him, seeking solace, wisdom, and guidance in every phase of our lives.
Conclusion: Aging as a Remarkable Journey of Grace:
As we conclude this exploration of aging, let us remember that this journey is not to be feared, resisted, or denied. Instead, it is an invitation—an invitation to embrace the unfolding of time with grace, to deepen our faith, to forge connections with others, and to leave an indelible mark on the world. Aging is a canvas painted with God's love, a testament to His unwavering presence in every season of our lives.
May we approach aging with gratitude for the memories we've made, the lessons we've learned, and the wisdom we've gained. May we carry the torch of faith into our later years, illuminating the path for those who follow. And may we continue to find beauty in every wrinkle, every gray hair, for they tell a story—a story of God's grace, His purpose, and His unchanging love. As we age, let us do so with a heart full of thanksgiving, a spirit of hope, and a deep assurance that our best days are yet to come, both in this life and the eternal one to follow.