Prayer for healing is part of the bedrock foundation that the Bible is built on top of, one of the most fundamental of all of Jesus's teachings, and an important tenant for all good Christians to learn and embrace as often as possible.
Our lives have a way of throwing obstacles before us when we least expect it, and we are going to be challenged and tested as we move throughout our day-to-day lives – sometimes more than others, and sometimes more painfully than others.
There isn't a human in history that hasn't been touched by incredible sadness, deep pain, and uncertainty about how to best move forward in the face of it all. Thankfully though, the power of prayer for healing can help us get through these challenging times, bringing us forward in Jesus's teachings, and helping us learn and grow along the way.
The Proven Healing Power of Prayer
The most beautiful thing about the power of prayer for healing is that it is so universal, that it is so effective, and that it is so easy to welcome into your heart.
Our God is compassionate, merciful, and eager to heal – even if that healing power isn't always instant, on-demand, or as obvious at first as we might like.
Not all of us are going to have the healing power of prayer touch our lives the way that two blind men in Matthew experienced when Jesus healed them and restored their sight.
Instead, our healing experiences with prayer will likely be similar to the experiences Jesus disciples witnessed in Luke when at first these disciples did not see or understand how young boy had been healed by Jesus simply because it was not immediately evident.
Jesus implored them to look closer, to have patience, and it later became apparent that the boy had in fact been saved through prayer – just the way so many of us have been saved and healed.
What cannot be denied, as evidenced by these Bible verses about healing, is that there is so much power, so much presence, and so much restorative energy contained within each prayer.
Prayers that ask of our heavenly father to lighten our burden are rarely answered on-demand, but what cannot be questioned is that our heavenly father always wants us to be whole, always wants us to be free of pain, and always wants us to learn and grow from the challenges we are all faced with.
A prayer for healing is always answered, even if the answer comes not in the way that we expected or anticipated.
What the Bible Says About the Healing Power of Prayer
It is also imperative that we remember while sickness, illness, and disease or not created by our Lord he still has full command, control, and authority over those circumstances.
Very often we forget that the biggest challenges in life are almost always obstacles designed for us to overcome, obstacles that force us to grow and to change, and obstacles that compel us to take a closer look at our lives to see if we are truly leading them in a way that honors ourselves, our loved ones, and our Christian faith.
No, at times these obstacles do not feel fair and do not feel deserved.
It's difficult to look around at all the suffering some have to contend with, the plights that some are saddled with, and the illnesses and diseases – the impact they have not only on the body but on the mind, the spirit, the soul, and entire families and communities – some have to struggle with and see the real meaning behind all of this pain.
In times like this it's important to remember the words of Exodus 15:26, "If you listen carefully to the Lord your God and do what is right in his eyes, if you pay attention to his commands and keep all his decrees, I will not bring on you any of the diseases that I brought on the ejections, for I am the Lord who heals you".
You'll never be subjected to more than you can handle and you'll never be forced to carry burdens that are not designed to help you grow. The Bible says clearly that our Lord in heaven will strengthen us and help us, and that He will uphold us with His righteous right hand.
Bible Verses that Speak of Healing Prayers
Many verses throughout the Bible deal specifically with prayer and its healing properties, many of them offering comfort to those that are struggling with illness or disease themselves or seeing their loved ones contend with these obstacles and challenges.
In Jeremiah the Lord tells us that he will restore us to health and heal our wounds through prayer, just as he says in Chronicles. The Lord tells us that if his people will humble themselves and pray, seeking His face and turning from their wicked ways, he will hear them from heaven, forgive their sins, and heal them.
Our heavenly father also says that his eyes are always open and his ears always a tentative to the prayers of those that believe, and it's difficult to imagine that a prayer for healing for a friend, a loved one, a neighbor, or a stranger would not be well received.
In John we learn about Jesus healing people after hearing their prayers, and in Revelations we learn that all our tears will be wiped away and there will be no more morning or crying for pain as the old order of things fades away.
As highlighted earlier, our book is built on top of a foundation of healing through prayer. Jesus and our God both want us to be happy, to be whole, and to leave the kind of healthy and energetic life with our loved ones that brings glory to them as well as to ourselves.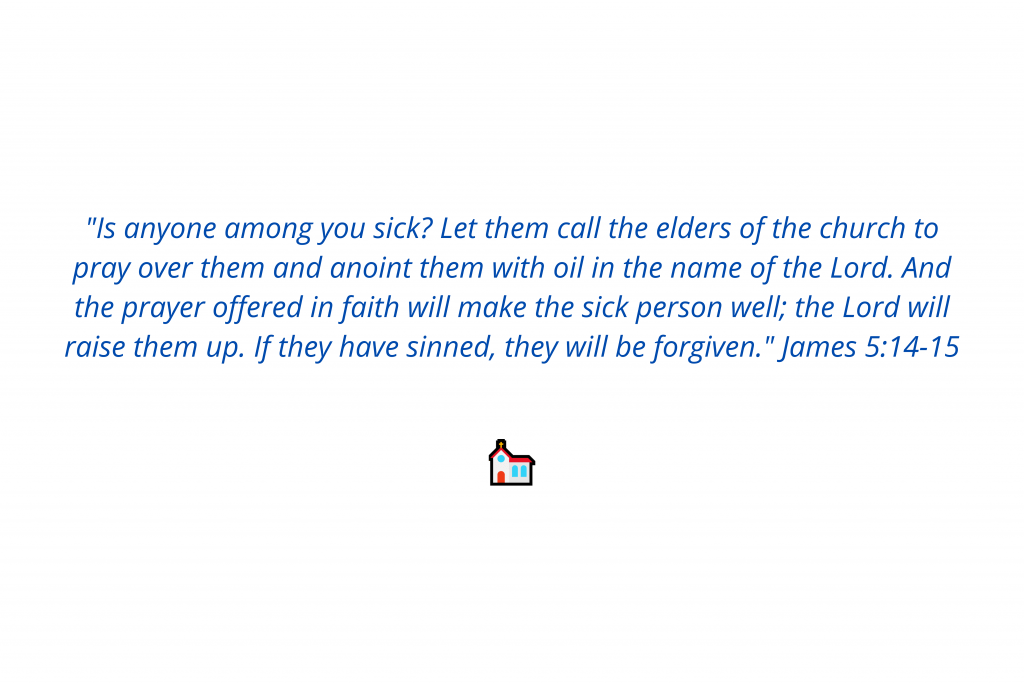 Can You Heal Illness, Injury, and Disease with the Power of Prayer?
You absolutely can heal illness, injury, and disease – of the mind, the body, and the spirit – by tapping into the power of prayer for healing.
Those that believe, those that are consistent in their behavior, and those that lean into scriptures for healing are always pleasantly surprised to see just how effective prayer can be at restoring our health and our well-being.
We all know the story told in Luke of Jesus healing the lepers, just as we know the story of Jesus healing the blind beggar in John.
The day-to-day maladies, illnesses, and diseases that we often have to contend with in our modern world frequently pale in comparison to leprosy or blindness, and if prayer for healing is powerful enough to resolve those problems the odds are quite good that we'll find ourselves restored and refreshed through prayer as well.
This is not to suggest that praying for healing is simple or straightforward. Nothing could be further from the truth, and nothing of value comes without effort, without energy, and without sincerity.
It's also important to remember that it is not necessarily always in God's will to heal us on our schedule or to necessarily heal loss at all. Sometimes illness, disease, and injury – issues we have to deal with or issues our loved ones have been saddled with – are designed to mature our mind, spirit, and our feelings so that we may be a little closer to His image as we move throughout lives.
In Hebrews 12:11 it is written that the disciplines we face on a daily basis (sometimes including illness, injury, and disease) are anything but pleasant on the surface, but are instead incredibly painful. This is intentional, as later on in life will have a richer sense of peace and prosperity and a finely tuned perspective having had to go through those kinds of trials and tribulations.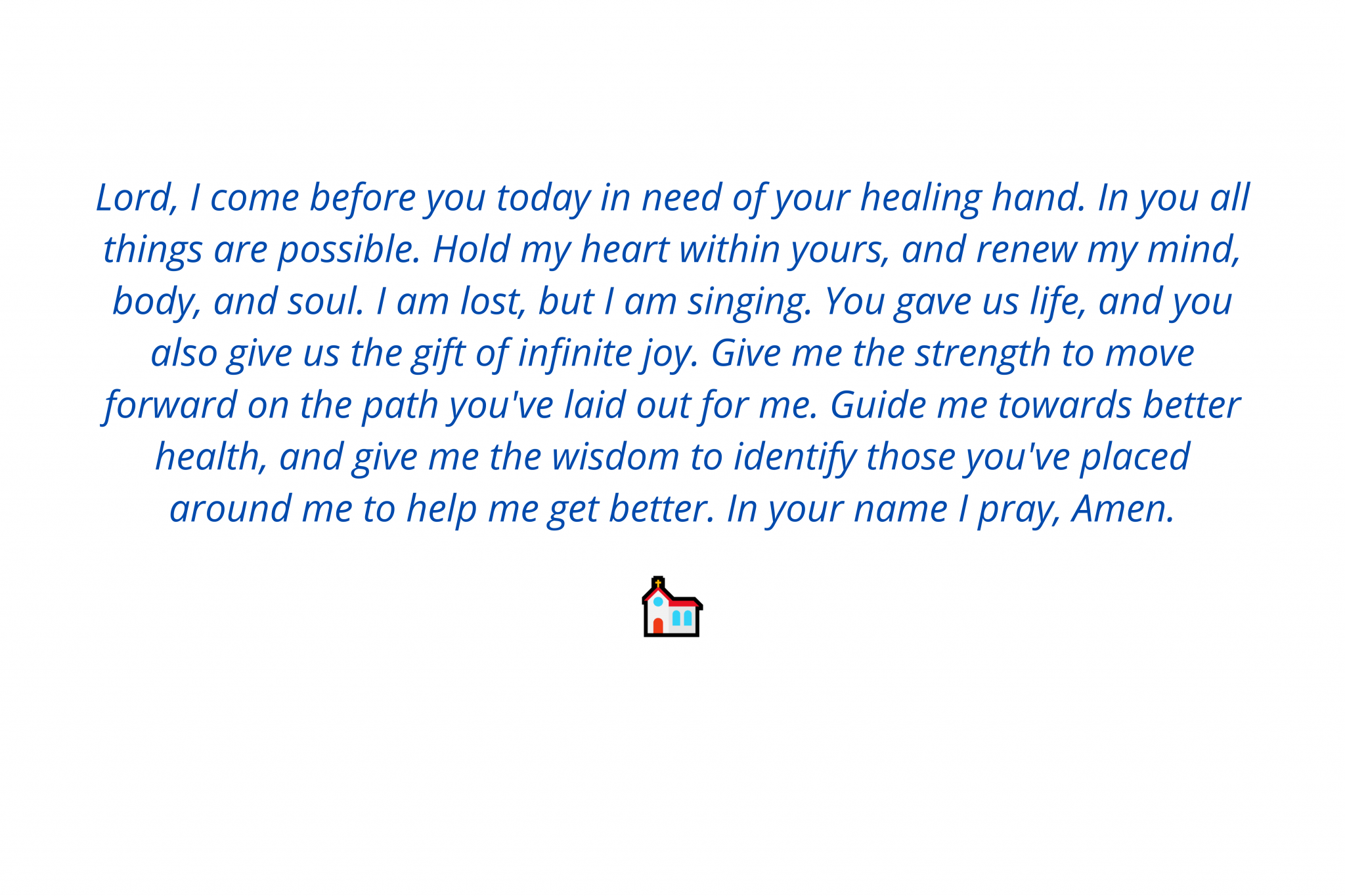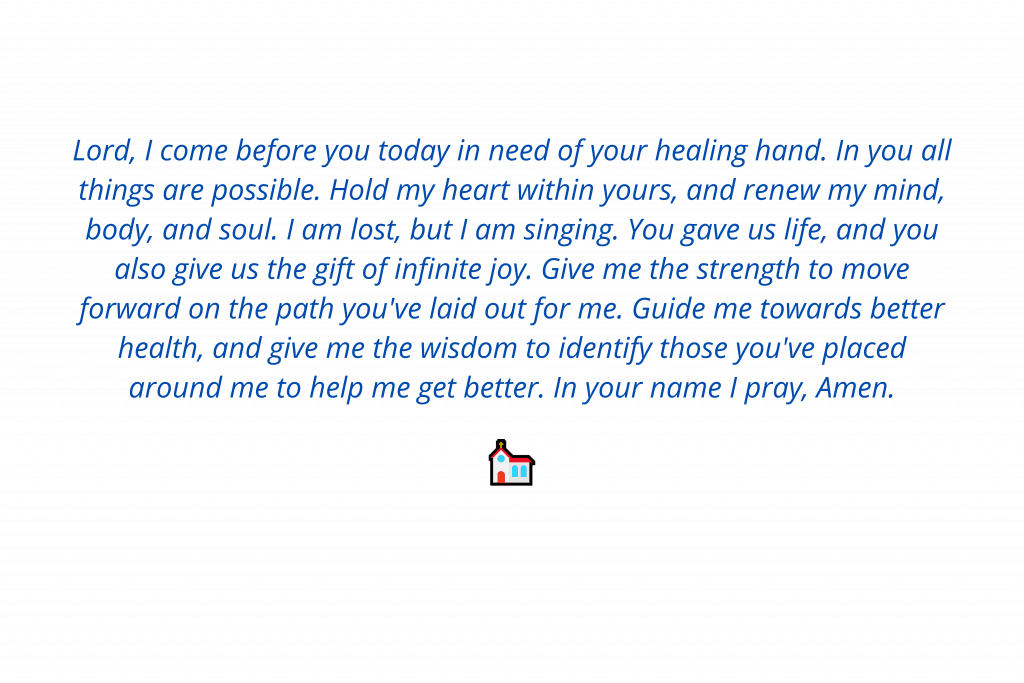 Healing Your Own Mind and Soul Through Prayer
Many of us believe that we are only able to use the prayer for healing for others, but nothing could be further from the truth.
While it can feel selfish to want to pray for your own health and your own well-being, sending up a healing prayer and turning to scriptures for healing to get extra strength when dealing with illness or disease is never seen as such through His eyes.
There's never anything wrong with praying for little extra strength to fight anxiety, stress, and depression, especially in today's "always on the go" modern world that puts so many obstacles in our pathway.
He wants us to lean on His strength, He wants us to do well and to feel whole, and He wants us to have the peace of mind and prosperity all of His children are entitled to enjoy.
Never feel shy, ashamed, or bashful about asking for help through prayer but recognize that this help may come in different forms than you expect. As God said to Paul, "I won't take away the thorn but my grace is sufficient".
You'll also want to remember that prayer was never intended to totally replace proper medical attention.
Seeking out medical assistance does not and will not invalidate your faith and does not violate the relationship that you have with Jesus Christ or God. There are some of the faith that feel as though modern medicine is somehow incompatible with Christianity, but nothing could be further from the truth.
You'll want to lean on prayer to heal your mind, your body, your spirit, and your soul but you'll also want to take advantage of modern medicine when applicable. Sometimes the answers to your prayers are a surgery or a medicine.
At the same time, you'll usually find little relief whatsoever ignoring prayer for healing in favor of modern medicine. Too often people that take this approach find out firsthand what God warned about in Exodus, reminding people that they shall not put the Lord to the test.
Like most things in life, balance is essential here. Finding that balance for yourself is always going to be a bit of a tight rope that you alone will have to walk.
Just remember that there is incredible power in healing prayer, that there are almost infinite Bible verses about healing to restore you and your loved ones, and that if you are ever feeling lost, alone, or underwater because of illness, disease, injury, or stress and anxiety that you can lean on scriptures for healings to be restored and refreshed by the Lord.