We can use prayers to express our hearts to God about anything. This includes talking to him about our pets. God created pets and so he loves them too. So in case, our pets are unwell, we can always seek God intervention through prayer for sick dog or cat.
Pets are human companions and deserve to live and enjoy life in their way. When you have a sick dog, it can be extremely stressful. You are willing to do anything to heal your dog, but at times it might turn out almost impossible. But wait, have you tried prayers for a sick dog? If no, then you might be missing out on the solution to your dog's predicament.
We should pray for our pets not just because we love and care about them, but because they are God's creation. We might be thinking that we own them, but the truth is that we are just stewards of God's creation. Psalm 50:10-11 says, "For every beast of the forest is mine, the cattle on a thousand hills. I know all the birds of the hills, and all that moves in the field is mine."
So in case, your dog is suffering from a disease, illness, injury, or mental illness, you should always seek to lift them up through prayers. You can always expect God to answer your prayers in your best wishes and according to his will.
Scriptures to consider before praying for your sick dog
One thing we learn from reading the bible is that God loves and cares for animals. There are many bible scriptures that show God's love and care for animals. So before praying for your dog, consider reading the following scriptures:
Proverbs 12:10 "The righteous care for the needs of their animals, but the kindest acts of the wicked are cruel."
Psalm 36:5-7 "…Your righteousness is like the mighty mountains, your justice like the ocean depths. You care for people and animals alike, O LORD. How precious is your unfailing love, O God! All humanity finds shelter in the shadow of your wings."
Psalm 145:9 "The Lord is good to all; He has compassion on all He has made."
Psalm 50:10-11 "For every beast of the forest is Mine, The cattle on a thousand hills. "I know every bird of the mountains, and everything that moves in the field is Mine."
Exodus 23:12 "Six days do your work, but on the seventh day do not work, so that your ox and your donkey may rest, and so that the slave born in your household and the foreigner living among you may be refreshed.
What can we learn from the bible about healing?
In the bible, Jesus is known for his healing miracles. His healing miracles teach us that God heals in ways that defy medical knowledge. There are very many scriptures in the bible that show us his healing miracles. And in all his healings, there is an emphasis on faith for healing to occur. Just check on the following scriptures:
Matthew 9:20-22, "Just then, a woman who had been subject to bleeding for twelve years came up behind him and touched the edge of his cloak. 21 She said to herself, "If I only touch his cloak, I will be healed." 22 Jesus turned and saw her. "Take heart, daughter," he said, "your faith has healed you."
Luke 17:19, "Then he said to him, "Rise and go; your faith has made you well".
Acts 3: 16, "By faith in the name of Jesus, this man whom you see and know was made strong. It is Jesus' name and the faith that comes through him that has completely healed him, as you can all see"
But in most cases, it was the full belief that they had with the healing of Jesus that Healed them. It is a sure way that God answers our prayers according to our faith. Our approach of prayers may be in such an attitude that diminishes our faith and thus limits our trust in the healing power of God.
Your sick pet has no faith. Neither does it have the ability to pray. But you can always make a suppression for them. What you need is just to activate your faith and belief in the healing power of Jesus and trust the ability of God to heal your pet. In case you are wondering on how to pray for your sick dog, here is our comprehensive list of the prayers for healing your dog against the disease, illness, injury or mental illness
Healing prayer for sick dog against disease and illness, or injury
Caring for a sick or injured dog can deprive you of so much time, energy, and money. You are likely to experience depression, stress, and anxiety. And there is a chance that you will develop symptoms similar to those reported when one is caring for a sick relative or close friend. The process worsens when the medication doesn't work, and the dog's situation worsens rather than improves.
But in case you find yourself in such predicaments, here is a collection of prayers you can perform to your pet. We hope these prayers will bring peace, comfort, and healing to your ailing dog.
Prayer for sick dog by the Missionaries of prayers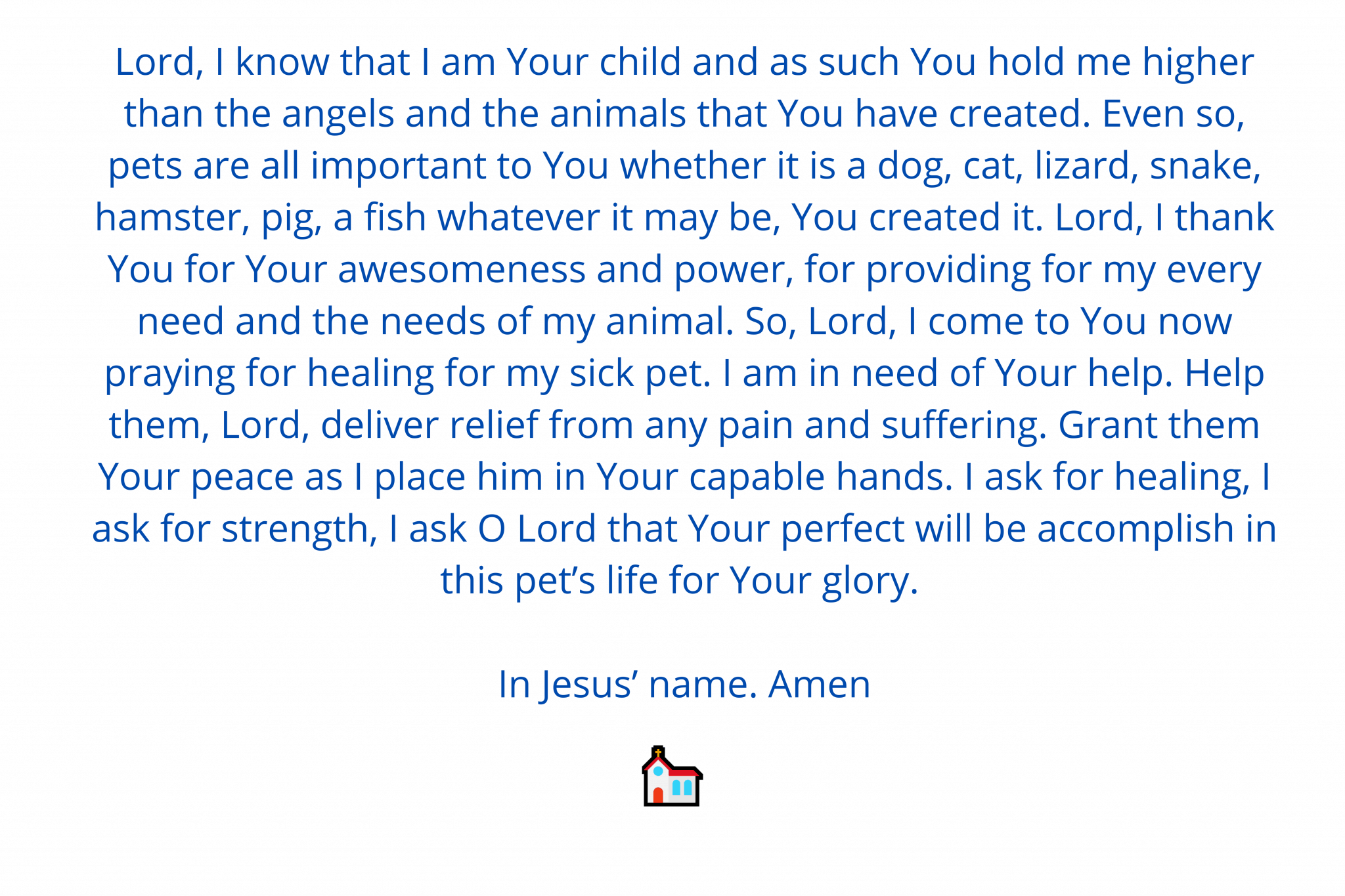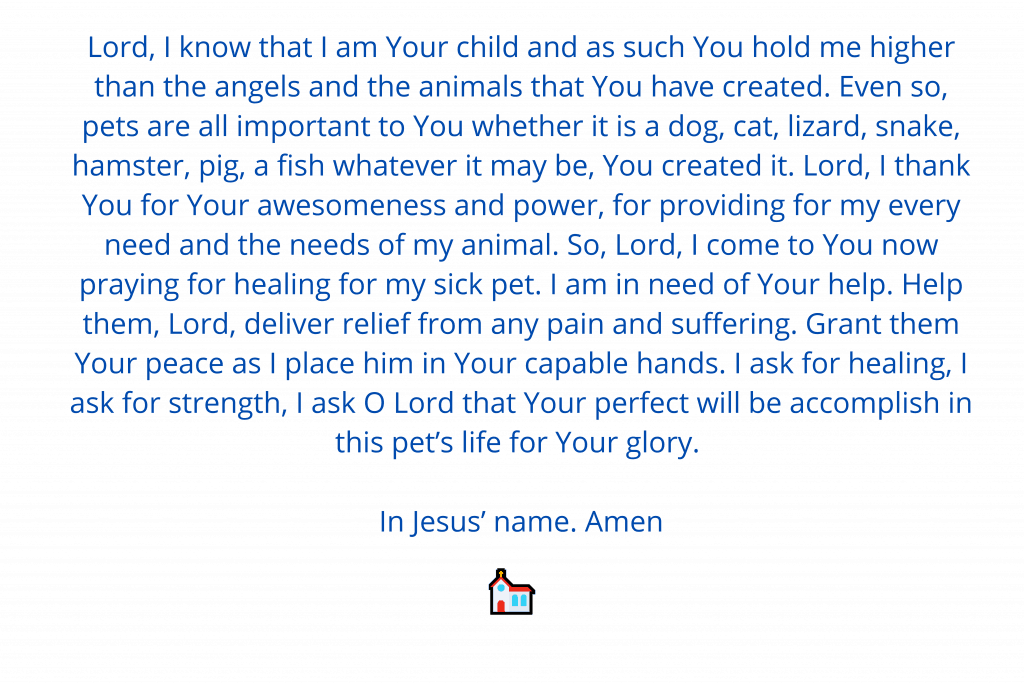 Healing prayer for sick dog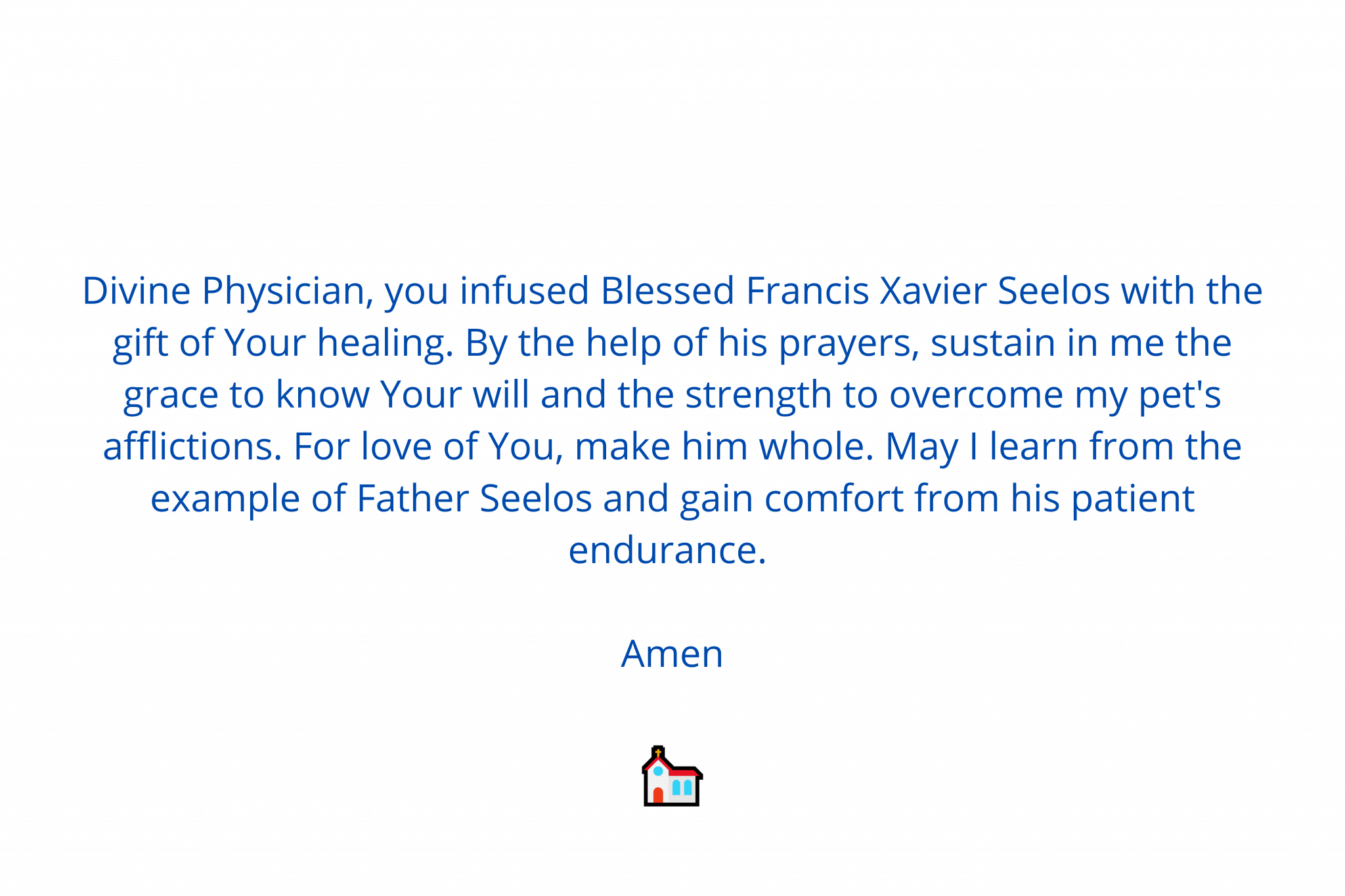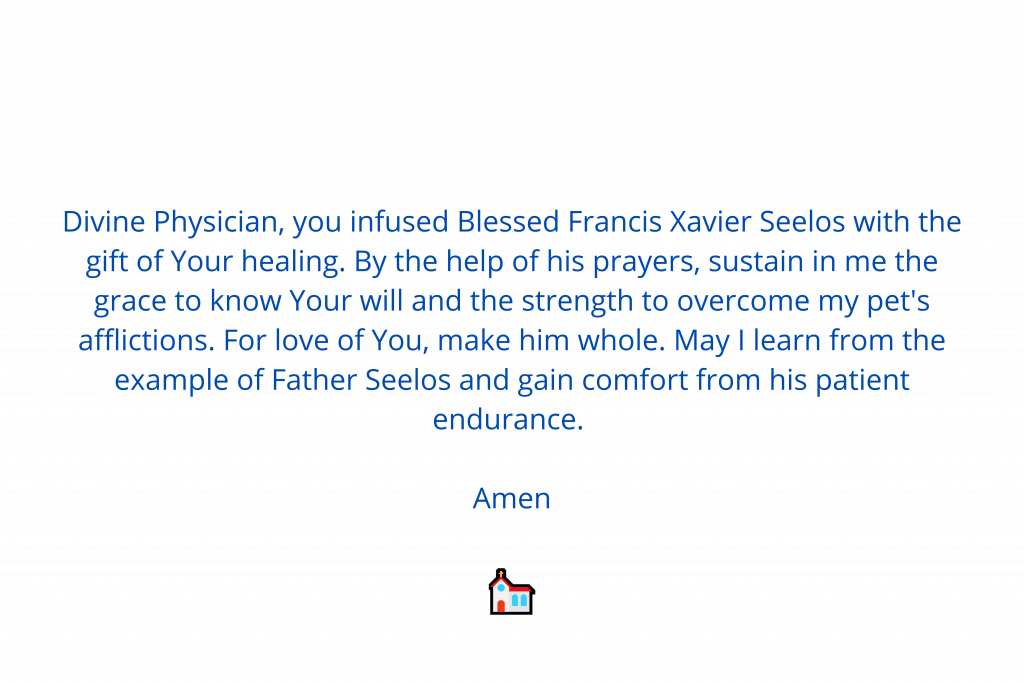 Catholic prayer for sick dog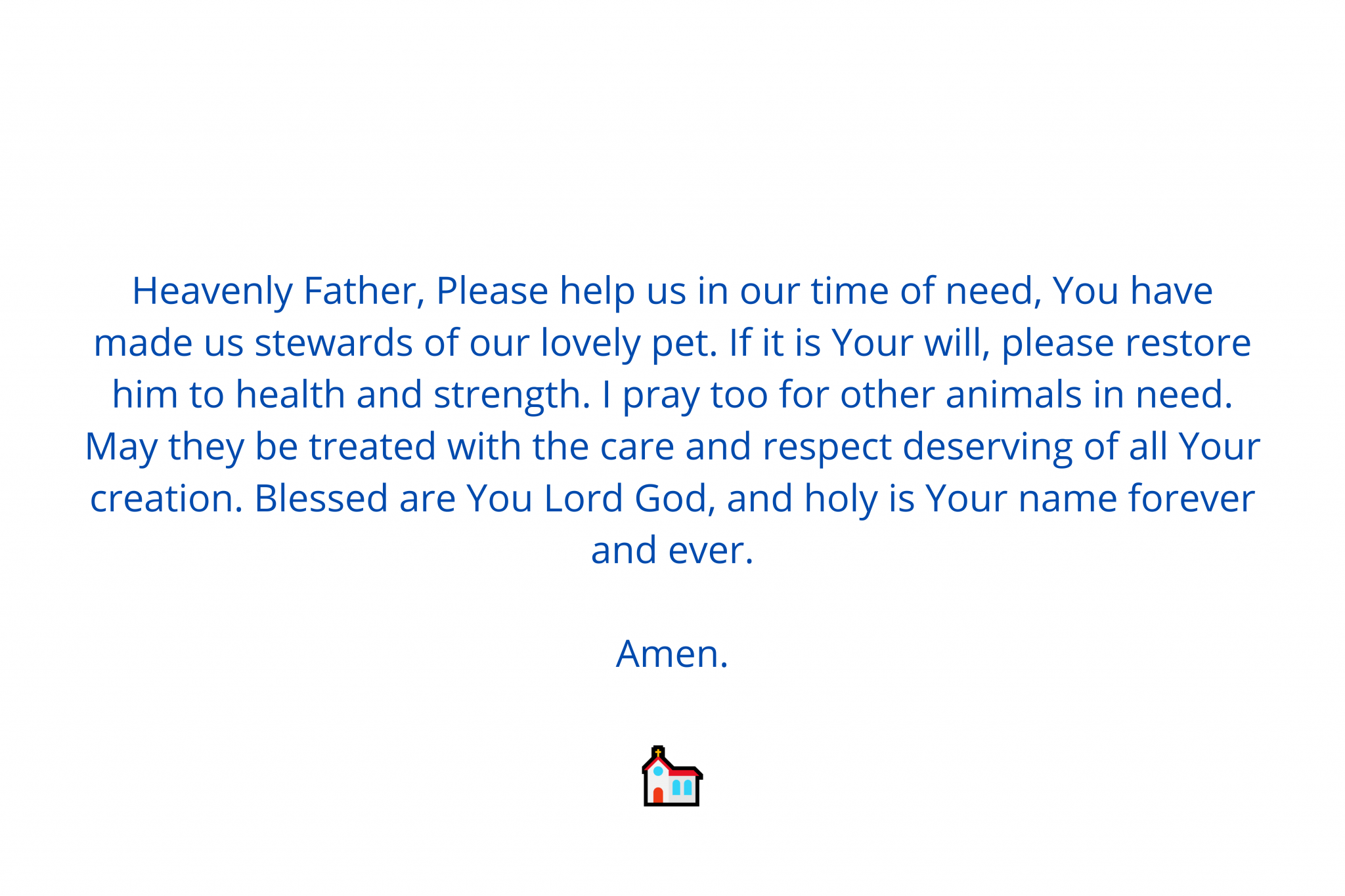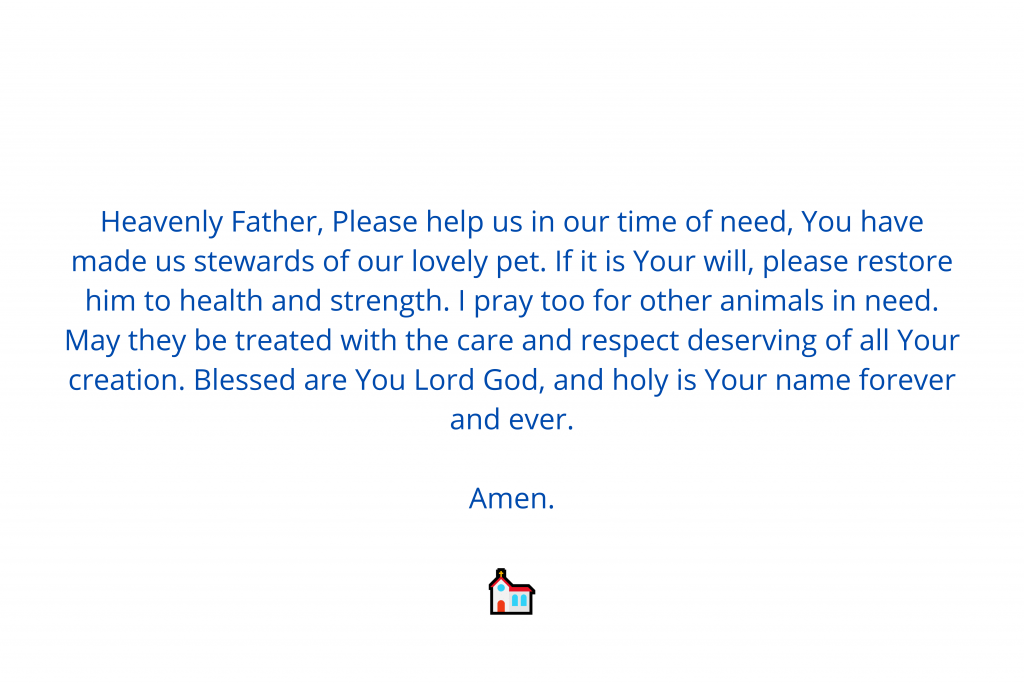 Conclusion
Regardless of the predicaments facing your dog, you can always be sure that God will answer your prayers if you pray in good faith. The above prayers will hugely help you in seeking God's intervention. God tells us that through prayer, he can speak to us and use us to work miracles for His glory.